Synchroscope Controller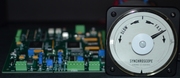 Synchroscope Controller and Meter
Model 7749-3C
Synchroscope Controller
The Model 7749-3C Synchroscope Driver provides users with state of the art technology for driving synchroscope meters. Using 2 DAC's the 7749-3 generates two controllable frequencies. These frequencies can be programmed to run from 45 Hz to 62 Hz by a few control bits. One of the frequencies is used as a reference frequency. The other is an offset of the reference frequency. The user provides an offset count which positions the pointer to an angle defined by the offset. This offset allows the Synchroscope pointer to move 360 degrees away from the reference frequency. By providing continuous updates the user is able to get the pointer to rotate. The exact position of the pointer is known at all times, this eliminates the need for DI's when approaching the 12:00 position. The 7749-3 uses 16 DO's to control the meter positions.
There are multiple off line tests to verify that the unit is functioning properly.
The 7749-3C is self-contained with an AC/DC power supply and standard connectors to interface to IO cards and meters.
Specifications
Self-contained power supply
User programmable frequency from 45 Hz to 62 Hz
Very simple simulation of Synchroscope
Simple Software Interface
Uses real Synchroscope Meter
Generates two 120 volt AC frequencies
High Reliability
Exact position control of Synchroscope Pointer
5 Year warranty
Complete documentation provided
TMI, LLC 1 Chestnut Street Suite 4K Nashua, NH 03060 603 882 8610 email:tmi1@msn.com
website: tmiio.com